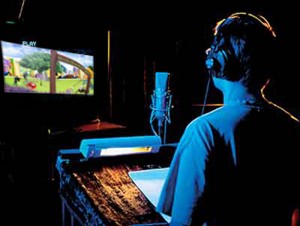 We prepare voice-over tracks and full soundtracks for:
– multimedia presentations
– corporate and training films
– documentaries and feature films (also dubbing)
– computer games
– e-learning projects
– audiobooks
– GPS navigation software and guides
and other systems where human voice, effects and music are used.
We fulfil orders in 32 languages (using the best native speakers).
Recordings of foreign voice-over artists are performed in their own countries.
We offer the possibility of participating in the recording process, in tahe Warsaw or Tarnów studio (through ISDN technology).
The accounting unit for this type of recordings is a standard A4 page.
One A4 page = 1800 characters without spaces.
We provide specialised translations (synchronised with the image), ensuring that the text on the screen is in accordance with the action.
Thanks to our many voice-over studios and professional sound engineers, we are able to fulfil the orders, even those which are very large and long, within an express timescale.