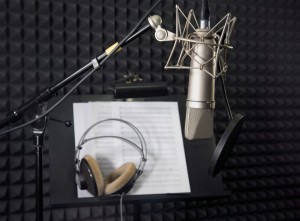 Podcasts.
Podcasts derive their name from "iPod" and "Broadcast", hence, Podcast. They are more often composed of spoken word but can include music. They are episodic in nature and can be subscribed to or downloaded on to your home computer or a mobile device, like an iPhone or iPod. They are always in a digital medium and are streamed over the internet to the receiving device. Traditionally, podcasts have been free downloads. Podcasts can be streamed as audio, video, enhanced audio (includes images with the audio), ePublications, and even PDFs. Podcast Novels do exist, too. They are broadcasted as episodes rather than one full audio book.
Audio books.
As computer technology has been exponentially improving, our ability to store more and more data on smaller devices has also improved. This has paved the way for audio books becoming more prevalent as a medium for novels. The audio book is simply a book being narrated in its entirety. As stated above, podcast novels differ from audio books in that they are delivered in episodes. Audio books can be listened to from start to finish. They are perfect for people who need to do manual work, or drive, whilst listening to the book. They are also more attractive to people who find large books daunting to read. Our studio is ideal for the creation of Audio books. If you need talent to narrate we can help with this, too.
Apps.
Apps for smart phones, tablets, and even desktops, often require (like most software) an audio component. This may be as simple as a "beep" when a button is pressed or as complex as a musical score or spoken content. There has been a dramatic increase in the number of available apps online and, now that many people are developing their own apps, a demand for audio to be integrated into these apps. We have discovered the right methods and practices for preparing audio for all different kinds of apps that are on the market. Please feel free to give us a call regarding your app and what kind of audio is required.